Crafting Your Story with Chris Cocca of Strategic Sales Solutions
Founder City is a free, multi-faceted resource created by The Frederick Innovative Technology Center, Inc. (FITCI) and Betamore for business leaders on their own path to growth and discovery. The virtual conference includes a pitch competition worth $25,000 in cash and service prizes, in addition to mentorship opportunities, networking, targeted learning and more.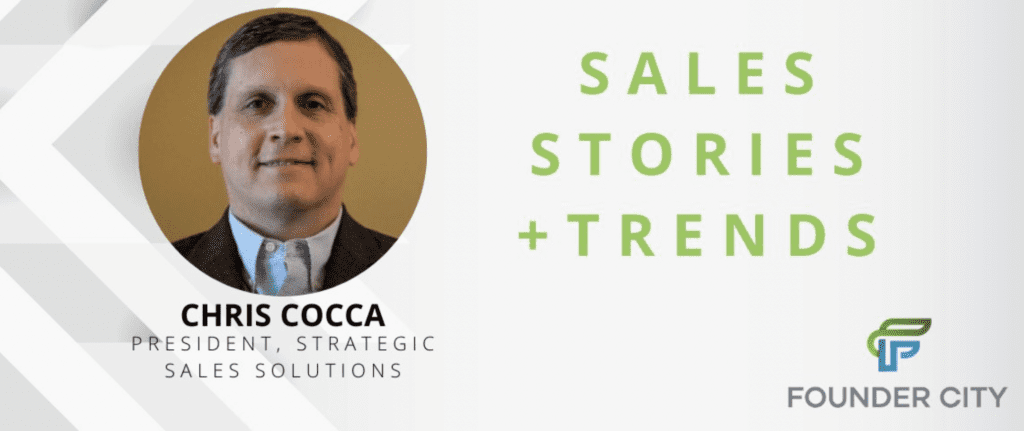 Everybody loves a good story. Even before Hollywood got involved, humankind reveled in a grand epic. You know the one, where the hero is brought low by overwhelming adversity before finding a guide and heeding the clarion call, persevering to ultimately emerge victorious.
According to Chris Cocca, Founder of Strategic Sales Solutions and a founding partner in MomentumCPG, it's a story with a plot twist when it comes to sales and marketing success. He shared insights gleaned from 20+ years of sales leadership expertise in a special segment of Founder City's online learning series, drawn from helping small to mid-sized business owners reach their goals. The session explores how to harness the power of storytelling to forge a deeper connection with prospects.
The Client as Hero
The trick, says Chris, is to make your client the hero, not yourself. "Flip the story upside down. Get THEM to hero status and out of the pain." Acting as the supportive guide, a good sales person helps the hero navigate the difficult terrain of running and growing a business.
Chris advises starting with an outline and some serious self-evaluation in order to craft a story that is compelling, differentiated and customer-focused, all in about a minute and a half. He asks, "What customer issues are addressed? What pain is solved?" How is your product or service superior to competitors or unique in the market…and why is that important to the customer? Prospects need to hear about what is in it for them, personally and for the company. Chris cautions, "People buy on emotions first, even if they also need facts."
3 Keys to a good story:
Compelling Details
Differentiated Value Proposition
Customer-Focused Perspective
Know Your Audience
The best stories are tailored to the listener. For example, what is important to a CEO isn't always the same as what keeps the CTO up at night. Each person will have different needs and priorities, so it's helpful to envision a key buyer persona as you craft the message. You can also shape a slightly different version of the story for each avatar. Defining your ideal customer can also save you from working with the wrong customer, and bogging down the business. "You can't tell a generic story," says Chris. "Practice. Make tweaks as you go."
Customer discovery is a big part of closing the deal, too. That process may be as straightforward as checking out a company's website; but it's a step many sellers miss. "They just wing it."
Moderator and FITCI CEO Kathie Callahan Brady nods in agreement, sharing, "This is the #1 thing we work on in our 12-week accelerator and (participating business leaders) don't like doing it."
"You may not like it," responds Chris, "but there is no shortcut. There's only one way to get to consistently closing business. You've got to be good at customer discovery." It's a well-known fact that most business founders may be experts in their core business or service, but are not comfortable with the salesaspect. Honestly accessing the situation, Chris notes, could be "a trigger point to consider hiring" a dedicated sales rep into an emerging company.
3 Keys to Customer Discovery:
Research the individual and organization
Practice active listening, which is critical to building trust
Ask high impact questions that leave room for emotion
Articulate – and Practice – Values
"Values are not just a poster on the wall," insists Chris. "They are the way your employees interact internally and externally every day. They are either living the values, or you don't have well defined values." By integrating those defined values into the message, prospects get an idea of what it will be like to work with you. One referenced study shows that purpose- and value-driven organizations outperform the market by 15:1 and also surpass comparable companies by a rate of 6:1. "All buyers, especially younger buyers, want to hear about it. They want to know that they are working with a good company."
And, while sales are a lynchpin in effectively scaling a business, 73% of small to mid-sized companies rate themselves poorly in managing their sales team and processes. To that Chris responds, "First things first. You have to invest in infrastructure." Sometimes the biggest gap is personnel management, including coaching and onboarding. That's an expensive mistake. Instead, prioritize setting goals, metrics and KPIs, even before jumping into sales training. When team members on the same page, it's easier to clearly and consistently articulate a unique value proposition while laying the foundation to consistently grow a business.
Self-reported Challenges in Small to Mid-Sized Companies:
88% struggle with sales strategy
93% struggle with sales methodology
89% struggle with sales analysis (KPIs and metrics, reporting, etc.)
88% struggle with sales organization, especially personnel management.
Chris helps his clients overcome barriers that keep them from achieving sales success, from lacking structured methods and competitive analyses to ineffective/non-existent sales training. He builds the processes and capabilities companies need to scale efficiently and profitably, and supports Founder City as a way to make a positive impact on companies and communities in Maryland. Chris welcomes comments and connection from other business leaders who want to write their own success story.
Chris Cocca LinkedIn
ccocca@salesxceleration.com or 918-409-9559
Watch the full session here https://www.youtube.com/watch?v=pWm9GNCnzuk