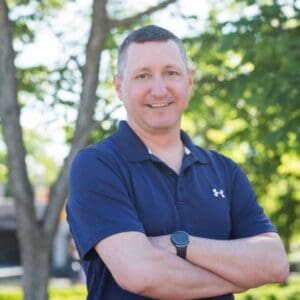 With degrees in electrical and computer engineering, a stint at Cisco working on enterprise software and network management, and kids almost ready to leave the nest, education, professional experience, and life-timing came together for Todd Lizambri and a start-up. Along with two former Cisco colleagues in California ("They're in San Jose, so they figured they needed a start up," he jokes), Todd founded IndusIntel, which brings the capabilities of the Internet of Things (IoT) to the world of industrial manufacturing. The company supports the new era of manufacturing, known as Manufacturing 4.0 (advanced, technologically based), which requires hardware and software capabilities to measure and reveal the state of quality and functionality of machinery.
Although his roots may be software, Todd considers himself a maker and holds a provisional patent for a hardware invention that can work with legacy equipment on the factory floor to collect data about machinery performance. IndusIntel has several initial deployments in factories on the west coast and in India, but Todd is looking for local manufacturers to work closely with to tailor his solution to the needs of Maryland manufacturers.
A native of western Pennsylvania and now a dedicated Fredericktonian, Todd has known of FITCI "a long time." He came to the incubator after attending a Funded and Brews event, realizing that the mentorship FITCI provides would serve him and the company well, despite previous experience with a start-up.  "There's a lot of things you don't know about starting a business—and you don't know what you don't know," says Todd.
Written by: Tamar Osterman, FITCI Media Chairman