Juniors & Seniors from Frederick County Public Schools (FCPS) have an uncommon opportunity to jump-start their advanced studies in science and technology by participating in the Biotechnology Internship Program at Frederick Community College (FCC). Students sign up for a 15-week program that can earn them a dual dose of high school and college credit while gaining valuable hands-on career training and experience. They attend their home high school in the morning and head to FCC in the afternoon for 15 hours per week. In addition to industry recognized credentials, participation builds work-based learning experience, which can lead to high-wage, in-demand careers in the biotech industry, one of Frederick's fastest growing sectors.

In February 2023, teacher/mentor Dr. Savita Prabhakar brought six 2022 fall semester program graduates to the Frederick Innovative Technology Center Inc.'s (FITCI) Metropolitan Court location to meet with FITCI representatives and emerging entrepreneurs.

The students were treated to a behind-the-scenes tour, including active lab spaces, and a chance to personally connect with business leaders on the front line of research and development. Attending FITCI members shared a bit about their own path from academia to entrepreneurship, as well as some of the exciting projects their companies are working on now.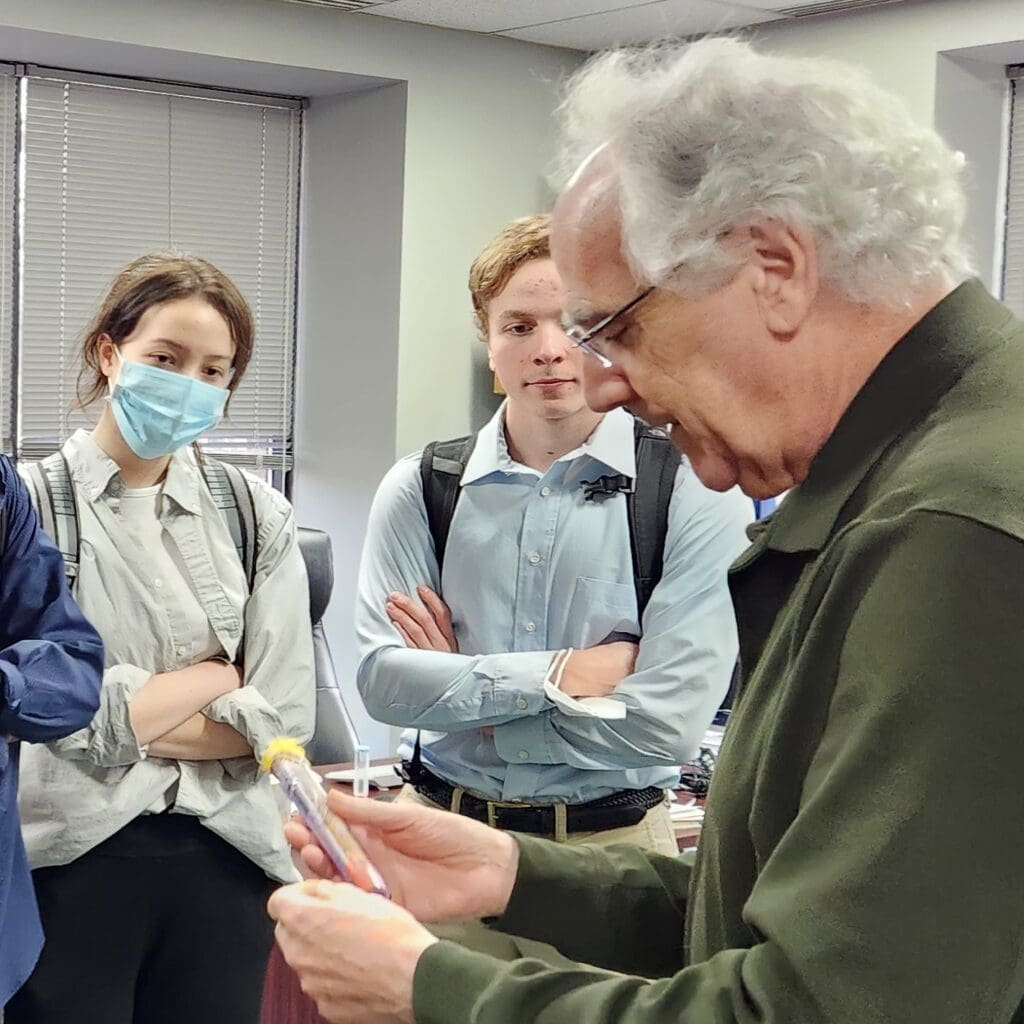 The students also had an opportunity to introduce themselves to the startup business leaders and ask questions about possible internships. Each has plans to continue their higher education journey this fall, citing a range of career interests from bioinformatics and genomics to computer science and regenerative medicine – all perfectly aligned with FITCI's focus on helping life science and technology entrepreneurs build viable businesses.

One student expressed an interest in quantum biology and bacteria, the next said his experience with the program inspired a fascination with molecular and stem cell biology, specifically pluripotent expression and how cells from a patient can be used to create treatments.

Dr. Kenneth Dretchen, Ph.D., Vice-President and Chief Science Officer for Mesa Science Associates, encouraged the group to embrace variety in their educational options and explore freely. "Go for the next four years of college and take whatever you want to take. In no way, shape, or form will it limit you in terms of what your ultimate plans will be. Don't lock in too early in your life."

Dr. Dretchen says he's worked with plenty of interns over the years who have gone on to bright careers in science and medicine. One of Mesa's most recent interns was instrumental in creating a breakthrough paper detailing the evolution of the epinephrine dosage administered in anaphylaxis, a Mesa forte.
The company is a veteran-owned small business that collaborates in the development and commercialization of novel pharmaceutical products to deliver "life-changing therapies that fill important unmet needs." During the tour, Dr. Dretchen spoke about Mesa's work with Marfan Syndrome, a potentially fatal disease associated with progressive weakening of large blood vessels, and its sister company, MesaGreen. MesaGreen's flagship product is a safe, effective and affordable emergency treatment for canine epilepsy.

Fellow FITCI entrepreneur Dr. Sidney Fu also met with students and offered a tour of his lab. He founded LS Bioscience after more than 20 years working at George Washington University Medical School, including serving on the medical school admissions committee. Dr. Fu encouraged students to explore while taking classes that would provide the best foundation for an advanced degree.
LS Bioscience is currently focused on treatment for Lichen sclerosus (LS), a painful, chronic inflammatory skin disorder with unknown pathogenesis. He says his passion to create the new company sprang from years of research on cancer biomarkers, seeking the best indicators for early diagnosis and treatment.
Nick Fingerle with Nanocrine, Inc., shared a little about his own background in mechanical engineering and how his company is advancing a product to control the exact surface bioavailability for cells when processing experiments, improving repeatability and cell viability. The technology originated with the Naval research lab.

Fingerle's comments revealed a key differentiator in doing an internship with a small company versus a larger one. That is, the increased potential to get hands-one with experiments while working closely with company leadership. He cites their in-house microscopy capabilities and the potential for interns to help with characterizing mammalian cell behavior on Nanocrine's proprietary surfaces.

Working in a startup is unique because departments are often less defined. Smaller teams mean that founders are usually tasked with being scientists, sales force, human resources, and office admin all rolled into one. By simple proximity, interns are exposed to a wide variety of business functions beyond one narrow category.

One of FITCI's newest members, Dr. Anindya Chanda founded Mycologics, LLC. He says he is impressed with the student's understanding of advanced concepts and the depth of experience gained by participating in FCC's program. "It's impressive to see so many young people with this level of knowledge."

Dr. Chanda has more than 20 years as a fungal biologist and researcher. He is also part of FITCI's F3 accelerator cohort. His company is trying to solve the problem of food spoilage. "About 25% of all the food in the world is lost to fungal infection." He is testing the power of natural bacterial isolates as a biocontrol agent and finding positive results. Next on his agenda is performing mass spectrometry and other analyses. "It's a learning process. I'm learning every day. Whoever works with me will learn a lot as well."

Highly motivated, many of the visiting students quickly connected with FITCI business leaders to pursue individual internship opportunities. Student Andrew Starvaggi says, "Before my visit, I had no idea what to expect. I had never heard of an 'incubator' facility before. Yet, during the visit, I was absolutely blown away. In every single room, individuals were immersed in cutting-edge endeavors. The enthusiasm of the clients at FITCI is unmatched. The atmosphere was filled with warmth and innovation. I believe that this is a wonderful place to gain pertinent hands-on experience in the fields of scientific research and entrepreneurship. Opportunities like this don't come often for high schoolers."

In turn, the students inspired FITCI members. Research is currently under way to explore how interns might be able to gain broader experience by rotating through several FITCI companies during a semester.
FITCI CEO Kathie Callahan Brady says, "While FITCI's mission is to enable entrepreneurs to launch and grow viable businesses, that umbrella covers growing the local ecosystem, entrepreneurial development, job creation, economic impact and so much more. Working with local schools and helping young people get a strong start on their own career path is an important part of the big picture."

Find more information about the Biotechnology Internship Program at Frederick Community College at https://frederick.augusoft.net/info/landing/Biotechnology-Internship
To explore how FITCI can support your startup business goals, call 301-694-2999 or email info@fitci.org.
#