With Whitney Hahn, #provokebetter
The Frederick Innovative Technology Center, Inc. (FITCI) invites emerging entrepreneurs to a two-hour online seminar on March 7th, 2022. The class focuses on defining a growing business's positioning and messaging perspective, two essential components in creating an effective business plan.
Interactive exercises, led by Provoke Better Founder and Insight Instigator, Whitney Hahn, will explore the process of finding your niche, building a brand story and crafting a pitch that resonates with potential customers. Hahn is a master of strategic communications with substantial experience preparing growth-stage companies through coaching, training, consulting, and message design. Her insights on marketing, leadership and "hanging on for dear life" have been featured in two books and dozens of podcasts. She is also a StoryBrand Certified Guide and part of the very first cohort of Certified StoryBrand Coaches.
As Frederick's own business incubator and accelerator, FITCI is known for targeted, founder-focused programming. This class is part of the nonprofit organization's ongoing Startup U series, and builds upon a recent session devoted to helping business leaders define their value proposition. FITCI is the Rural Maryland Council's 2021 Outstanding Rural Economic Development Award recipient for Outstanding Leadership and Public Service in Advocating Policy Solutions to Greatly Benefit Rural Communities.
Keeping with FITCI's mission to encourage innovation and accelerate the development of commercially viable businesses, especially in science and technology disciplines, this class is FREE for FITCI members and just $15 for nonmembers.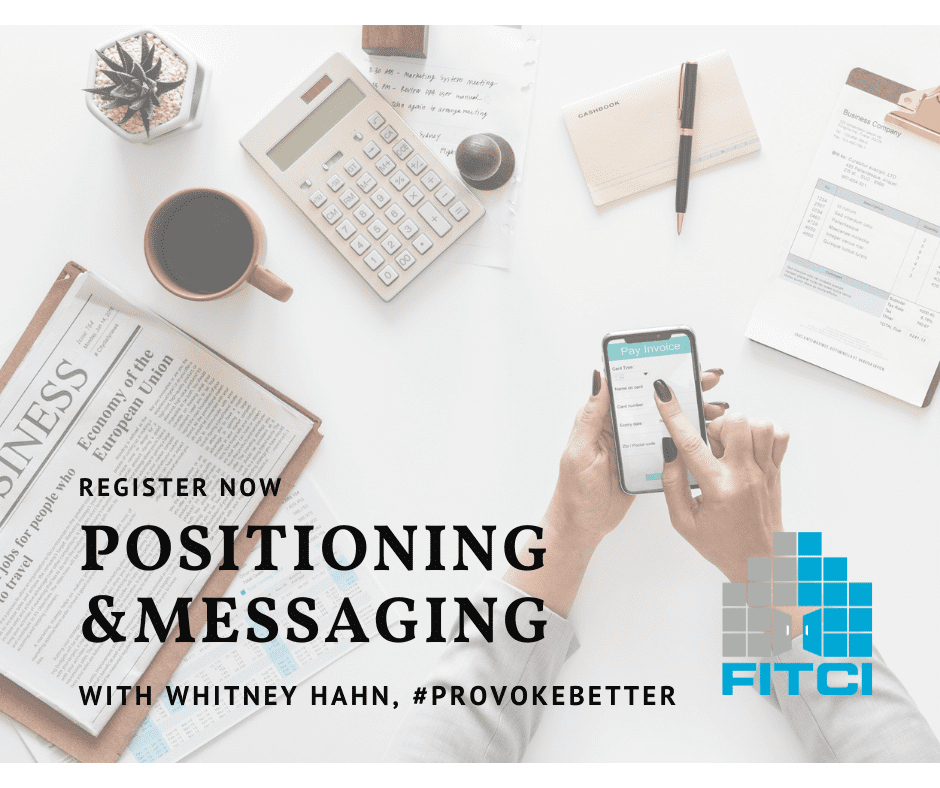 Workshop Goals:
– Designing and drafting your position
– Pitching your draft position to others to see if it cuts through and resonates
– Why this is the ONLY test that matters
– Developing at least one buyer-based message based on your draft position
– Imparting tools to determine who you should be talking to, how to break through their ambient noise, how to help them understand what you do – fast, and why it matters to them, and why they should buy it now
– More leads and sales in less time
For more information on FITCI programs, call 301-694-2999 or log on to www.fitci.org. Register for the class at https://www.eventbrite.com/e/positioning-and-messaging-class-tickets-243087299657?utm_source=eventbrite&utm_medium=email&utm_campaign=post_publish&utm_content=shortLinkNewEmail
For information on Whitney Hahn and Provoke Better, head to https://provokebetter.com/