After nearly 20 years and hundreds of startups helped, FITCI is ready to change the way people think about business incubators.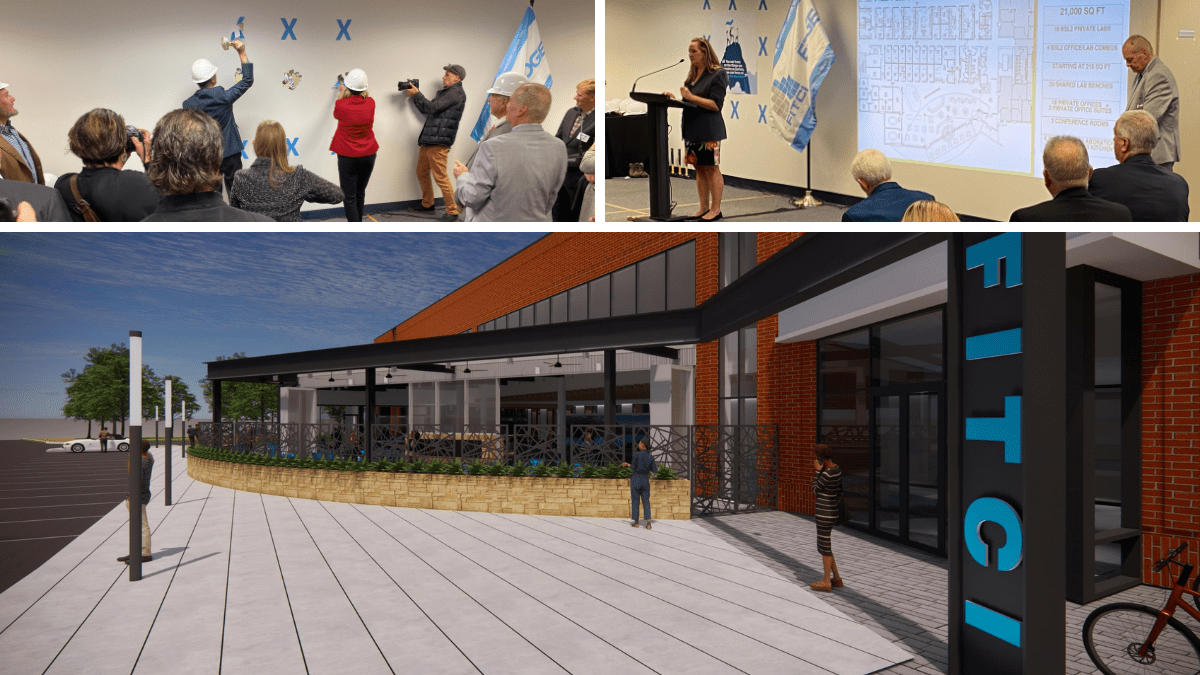 Frederick, MD: FITCI, the Frederick Innovative Technology Center, Inc., is proud to confirm plans for its new center located at 321 Ballenger Center Drive, a Frederick City enterprise zone. The nonprofit business incubator and accelerator expects to move in the first client companies by mid-2023. The new innovation center, known as "The EDGE@321", is hailed as an evolved facility concept designed to blend business development, economic resiliency, and community collaboration into one centralized hub that will facilitate FITCI's ability to double the number of startup companies it can support, while expanding its community impact exponentially.
The Edge @321 model will topple barriers to success, particularly for beginning entrepreneurs in underrepresented populations, by creating a richly interwoven ecosystem of resources and structured support. This milestone is a culmination of more than 3 years of research and planning, 23 properties and 4 LOI's.
FITCI President and CEO Kathie Callahan Brady says it is both exciting and fulfilling to see the organization rise to the next level. "This will allow us to help so many more people. In the last six years, FITCI has grown from about a dozen members to more than 70 currently. That's a 500% growth. Imagine what we can do in a progressive, purposefully crafted environment, surrounded by thought leaders and partners, all devoted to enabling local people to forge career pathways and create viable local businesses."
FITCI's grand kickoff event last month started reconstruction with a bang as dignitaries were invited to take down the first wall with golden hammers.
The project and all its comprehensive programming would not be possible without financial support from FITCI's partners and star community members. Although additional funding is crucially needed, FITCI is grateful to our premiere sponsors who have shown devotion to innovation and broad economic development that starts at its most foundational level, including the U.S. Economic Development Administration (EDA), Frederick County and City, the Rural Maryland Council (DMC), the Truist Foundation, and other strategic partners yet to be announced. The EDGE@321 is intended as the front line for interaction and collaboration between individual entrepreneurs through the highest levels of industry and government.
During the program, Callahan Brady shared some impressive statistics and information with a crowd of 150 members, stakeholders, supporters, CEOs, and public officials regarding FITCI programs and impact:
93% startup success rate, compared to a <50% national average.
$84 million added to the local economy.
$160 million raised by FITCI startups.
80% of FITCI clients from referrals.
97%-member retention rate.
Over 1000 jobs created and anticipated to double in the new space.
New partnerships that accelerate the success of FITCI's companies.
Details regarding the 4,000 sq ft Base Camp – providing ample space for collaboration, interaction, education, and innovation …all key ingredients for accelerating new business success and engaging and integrating the greater Frederick community.
Plans for new programming to be launched in the community labs and Base Camp.
Finally, FITCI replaced the vision of vulnerable little chicks in a protective incubator with its new mascot for the Edge@321, the fearless Mountain Goat.
The EDGE@321 stands for "Enabling Development & Growth for Entrepreneurs." It is a 26,000 sq. ft. facility specializing in meeting the unique demands faced by life science and technology startups, including those in the budding AgriTech field. Once completed, the space will feature twice as many private labs, shared labs, and office space, as well as meeting rooms, loading dock access and a freight elevator. The great news is that the center is already 50% full and space is going fast.
Perhaps its most unique attribute is The EDGE@321's "Base Camp," a flexible community center with outdoor gathering space where collaboration and real change can naturally happen.
Collaboration is a key point. A capital campaign is currently underway to complete the project with support already provided by federal, state, county, and city development partners, among others, but more support is needed. There are opportunities for select partnerships with established experts and innovation specialists who can help accelerate startups' progress.
Callahan Brady says, "I am an entrepreneur. My father was an entrepreneur. So, I understand the effect that starting a business has on an individual, their family, and their community. Small business drives the economy and FITCI has already proven that it has the power to transform lives, sometimes across the planet. This new innovation center is truly groundbreaking, and it will complete FITCI's transformation from a more traditional business incubator to a community innovation activator. We can't wait."
For more information about joining FITCI's EDGE@321 as a sponsor or member, call 301-694-2999 or email info@fitci.org.