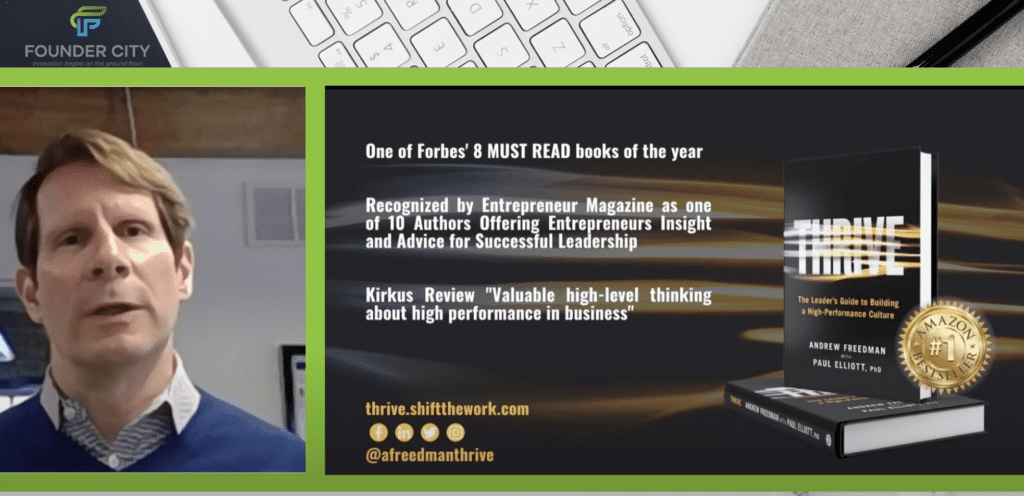 Andrew Freedman is a lifelong advocate for maximizing human potential and creating positive change, personally and professionally. As Managing Partner of SHIFT Consulting and an affiliate faculty member of the University of Baltimore with more than 25 years of business strategy experience, he knows a thing or two about the subject. He helps companies across diverse industries flourish through vibrant company cultures and a high-performance mindset. Freedman kicked off the Founder City's online learning series with insights from his newest book; THRIVE, The Leader's Guide to Building a High-Performance Culture. His advice cuts through power plays, focusing on the essential human component.
Speaking with moderator Greg Cangialosi (Chairman of Betamore and Managing Partner of Olive Ventures), Freedman relates how his family and early experiences shaped his outlook as a business owner and thought leader. He says that entrepreneurship is a journey of self-discovery. That includes learning how to deal with resistance, as well as recognizing self-limiting beliefs for what they are. Freedman offers a bit of wry insight into breaking down those barriers, "Resilience is your 'light,' your 'hope' …You have done hard things in your life. I know this because you are here." He suggests aligning thoughts and behaviors to an ultimate goal and creating a personal definition of success that evolves as you do.
Rethink Leadership
The challenges of 2020 took a particular toll on teambuilding, by unleashing fundamental shifts throughout society, culture, business and relationships. Working remotely often means that team members feel disconnected from each other and the greater whole, especially for individuals who thrive on the energy of personal interaction. Limited interface often results in less feedback and depth of communication. It leaves team members searching for meaning. Freedman puts it in performance terms, "now, it's hard for people to know if they 'won.'"
That makes it all the more important for managers to go beyond traditional hiring, training, on-boarding and reviews, requiring them to conscientiously foster engagement through consideration and clarity. "Leaders need to spend time figuring out how people are feeling, not just what they are doing," he says. Caring is the new management ace.
Although some supervisors may balk at the increased importance of emotional intelligence, Freedman insists it makes a big difference. "You have to know your people more than ever." He points to statistics that show a rapidly evolving workforce where 40 to 60% of workers will be "fractional," either gig workers or job sharing, in the next 3 to 5 years. So, workers are less inclined to see one job as the be-all, end-all of their livelihood and career.
On the plus side, the new virtual office model expands recruitment opportunities well beyond an immediate location. Workers can be national or international, taking the search for talent global. Host Greg Cangialosi concurs. "It's been one of the most dramatic shifts I've seen myself, working for Olive. We have grown like a weed through the pandemic."
Metrics of Success
Ditching the commute creates another distinct change. In many cases, workers actually spend more hours focused on the job. Freedman notes that many people sleep next to their phone and start the day by checking email before getting out of bed. Instead of meditating or exercising, "they are starting work earlier, not even giving themselves a chance to get their head right… They jump into the fray." Workers also remain tethered to their phones at night.
"This whole way of thinking and operating needs to be blown up," insists Freedman, because it contributes to pervasive fatigue.
"It's not sustainable," agrees Cangialosi. Even with greater flexibility, he says, one trick he's found to preserve essential balance is blocking time for family life and mental/physical well-being, as well as for specific work tasks.
Both Freedman and Cangialosi see a future with hybrid office models, blending in-person and remote work. Looking forward, Freedman suggests pulling individuals from cross functional roles to discuss what might work best for specific situations. "Talk about the causes for gathering," he asserts. "When should we be together and why? When can we still leverage technology in a productive way?" Including team members in the discussion engenders acceptance, especially where struggles are tied to mind-set. "People want agency," says Freedman. "They want a voice."
Going Beyond
With Zoom happy hours played out, how can management bring people together? Freedman's simplest advice is, "Poll the team… It isn't about leaders always having the right answer. It is about them being good listeners." Pulling family and friends into the experience can help. Examples range from inspirational health challenges to creative contests, such as pumpkin carving in the fall. Freedman's SHIFT Consulting occasionally shuts down on Friday afternoons to encourage team members to work on self-care instead. "We ask them to use the time to do something good for themselves." He insists that people who invest in themselves also build better connections – no matter where they are physically located. "It goes back to vision and value."
Freedman's three take-aways are:
Start by looking in the mirror.
Focus on clarity and alignment.
Care about the human.
"The purpose of a leader," he contends, "is to create a barrier-free work environment." It's an abiding goal that Freedman hopes will inspire new generations of leaders to create, and benefit from, people-focused business strategies in building a healthy, sustainable high-performance culture.
To watch a full session with Andrew Freedman and Greg Cangialosi, please follow the link – www.foundercity.com/march31